At present, the property is comprised of 20 hectares of uniquely red vines, which are part of the controlled appellation Blaye côtes de Bordeaux. The make-up of the vines is classical for Bordeaux's right bank region, being 80% Merlot, 13% Cabernet-Sauvignon and 7% Cabernet-Franc, a variety which we are looking to develop. We have a large palette of terroirs, which come from soils which range from sandy clay, through to limestone clay and types of gravel.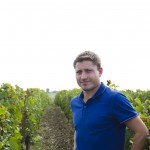 Our quest for excellence has pushed us to replant our vineyards more densely, to achieve up to 6,700 individual vines per hectare. This allows us to have vines which are more deeply rooted and which produce less. We are now waiting to see the authentic response from each of our terroirs.
All of our vineyards are cultivated organically and certified by ECOCERT. Our agricultural methods are developped to be both the most natural and the most environmentally respectful. Our plots are periodically covered to control weed growth and are only treated with carefully prepared cow manure compost in order to keep the long-lasting fertility of our soil. Phytosanitary treatments are not given systematically: any use would always depend on the seriousness of the fungal disease present, and careful thought is given before any application. In such cases we only use directly applied treatments ("Bordeaux Mix " – being a combination of copper sulphate and hydrated lime, or sulphur) in conjunction with plant-based mixtures (nettles, ferns, horsetail…) with the aim of reinforcing the self-defence systems of the vines themselves.
Through manual leaf-thinning, we are diligent in keeping the bunches of grapes perfectly healthy. All anti-rot treatments are banned in organic agriculture. Over the course of the vines' cycle all our work is centered on bringing in grapes that are healthy and well-ripened.